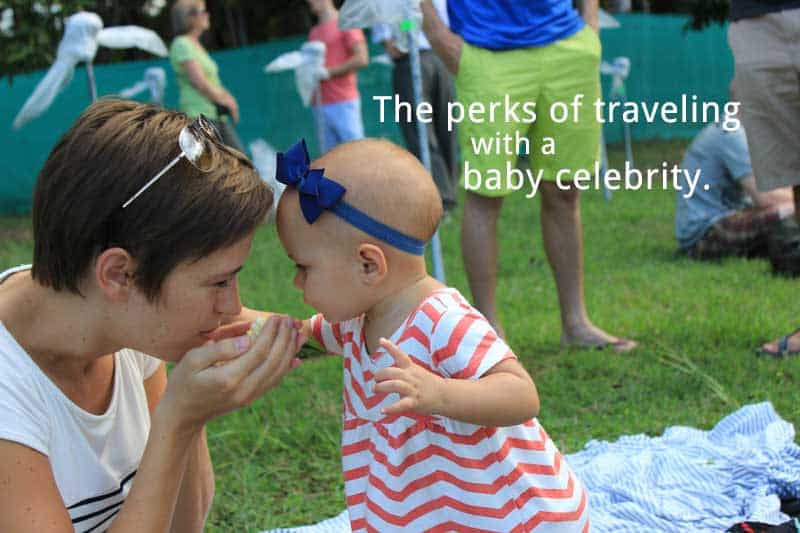 Several months ago I met my travel heroes at a breakfast gathering here in Chiang Mai, Thailand. Ty and Sloane left Utah and embarked on an epic journey with Fay, their 8 month old baby, to travel around Thailand, Bali, Cambodia and Vietnam for 100 days, bringing with them only 1 small Jansport and 1 travel backpack. I suddenly felt very sheepish about packing my own brand of deodorant to Thailand.
So, I decided to interview them at the end of their journey, to get all their tips and tricks about traveling with an infant.
This is what I learned from them…
1. Put just as much energy into the mental preparation as the physical preparation.
There are bound to be unexpected delays and challenges when it comes to travel. How to stay flexible when you are away from the comforts of home, is a VERY important skill for children (and adults) to learn. So, expect the unexpected. Don't beat yourself up when something doesn't go your way. Learn to let it go and move on.
If you need help with this, start with dedicating a short time to quieting your mind each day. This will have profound effects on your health and ability to roll with the punches. A great phone app for guided meditations is called CALM. It has the benefit of transporting you to a blissful beach even in the midst of chaos. You choose the scene, close your eyes, and slow your breath. Who wouldn't mind a little beach time each day? 🙂
2. Light travel is happy travel. Leave all the extra "stuff" behind.
It is more effort and stress to haul around a bunch of toys to keep the children occupied. Especially for babies, when a paper bag will provide for hours of entertainment, learn to just keep the packing simple. For older children, have them pick one thing that can be used to create many fun activities with a little imagination, such as paper and crayons or a deck of cards. Some of the best games are created when resources are limited. Here are some great high imagination, low cost games.
3. Request the bulkhead on your next airplane trip.
Did you know that you can request to have the bulkhead in the airplane when you are traveling with children? In fact, many airlines reserve this area on the plane specifically for families. The bulkhead allows for more space and easy access to the bathroom. I discovered this when we flew to Thailand on Korean Air and they attached bassinets to the wall for the babies on the plane. This is a lifesaver for any international travel!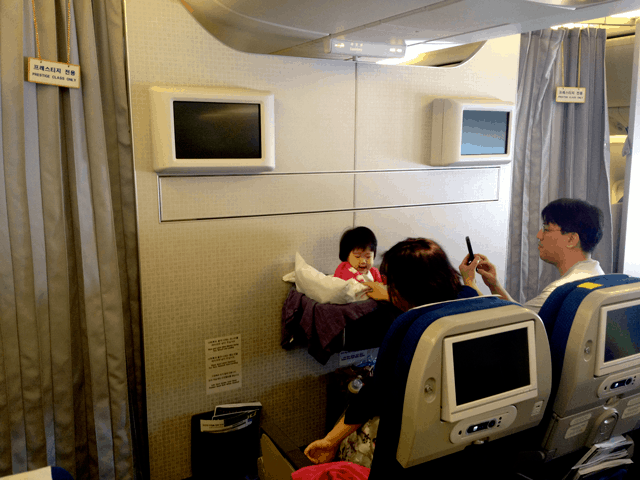 4. "Life is a lot more fun when you stop worrying about a little dirt, sand, water, poop, pee, and germs" – Ty & Sloane
Stress less about germs and cleanliness, your children will be healthier for it. Traveling exposes us to new experiences, and with those new experiences also come new germs. Although some bugs can make you sick, others keep you well. Exposures to these bacteria in the environment when we are young helps to strengthen our immune system. There is a reason why babies have the instinct to put everything into their mouths! Read this great article from the NY Times on this very issue.
To clean up spills, wipe hands and for times when soap is limited, traveling with some natural diaper wipes and hand sanitizer from The Honest Company are wonderful options.
5. The Beco Baby Carrier and PeaPod have made life easier on the road
Two products that have been worth their weight in gold for traveling with an infant are the Beco Baby Carrier and the Peapod sleeper.
Ty and Sloane recommended leaving behind the stroller for international travel. They are large and bulky and hard to pack around with you. From the cobblestone in Europe, to the sidewalk challenged Asia, many streets when you travel are not stroller friendly.
When travel sleeping conditions are uncertain, it is nice to have a safe place for baby to sleep and nap.
……………………………………………………………………………………………………..
What they would do differently next time? Splurge for an extra room.
Little Fay can be sleep challenged at times. Sloane says to consider getting two adjoining rooms to make for a better nights rest for all involved.
What is the best part of traveling with an infant?
My favorite quote from the interview was when Ty said, "traveling with a baby is like traveling with a mini celebrity." Babies are magnetic. They mentioned that they met so many people on their adventures just from people wanting to take pictures and play with little baby Fay. Seeing the world through Fay's eyes was an incredible bonding experience for their family.
Check out this video so you too can experience the lantern festival through baby Fay's eyes.
Food Tips When Traveling with a Family
No short order cooking! To avoid the stress of finding "kid friendly" eating establishments, make a rule that while traveling everyone eats the same food. Avoid the urge to find all the food that the kids are familiar with from home. Eating the local food is is a huge part of experiencing that culture. Even babies can eat the same meals by requesting the meat, fats and veggie portion of your meals to be mashed or ground up into baby food.
Travel is exciting and a time to enjoy yourself with fun local treats, however to keep your sanity while in enclosed spaces (long plane and car trips) and when sleep is crucial, avoid sugary snacks. Sugar can lead to hyperactivity and poor sleep. Try healthy protein based snacks like nitrate-free lunch meats, hard boiled eggs, carrot sticks and hummus, trail mix, cherry tomatoes, and celery with almond butter. For little ones, try mashed up avocado.
Travel First Aid
Having a small travel first aid kit is definitely worth taking up some space in your luggage. The last thing you want is to look up solutions at 3am when you are away from home with a sick child.
Here are the top 6 natural products to have in your Travel First Aid Kit:
1. Rescue remedy– Great for teething, poor sleep, and restlessness on planes and long car rides
2. Activated Charcoal– A must have for preventing and reducing the severity of food poisoning
3. Elderberry syrup– A yummy cold and flu remedy that is great for all ages, even babies
4. Rehydration mineral packets– A perfect portable non-sugary sports drink to replenish electrolytes in hot climates or during high fevers
5. Probiotics– The perfect immune booster and tummy tamer, especially with the introduction of new foods from exotic locations
6. Calendula cream– Great topical cream for bumps, bruises, scrapes, cuts, diaper rashes and burns
Homeopathic First Aid (all remedies in 30c dosage)
Here is a great kit with almost all of the below:
Aconite– Take 2 pellets at the first sign of a fever, or signs of a cold or sore throat. This can shorten the severity and duration of illness.
Apis– Great for hives, sun burns, bug bites and poison ivy. Used for stinging red swellings anywhere on the body that feel better with cold applications.
Arnica– Great for larger than usual accidents, sprains, bumps, bruises and sore muscles.
Arsenicum– Great for food poisoning, especially when the person complains of feeling cold. Use for fever, burning body pains, feelings of anxiousness, lots of vomiting, and high thirst for cold drinks.
Belladonna– Use when the primary symptom is sudden high fever with lots of sweating. With flushed cheeks, throbbing headache, glassy eyes and dilated pupils. Also great for dry scratchy throat with bright red tonsils and red hot sunburns.
Camomile– Great for teething and overall colic, discontent, restless, inconsolable and worse at night.
Cantharis– Great for urinary tract infections with burning pains and frequent urge to urinate. Also helpful for blistering sunburns.
Eupatorium– Great for flu and mosquito borne illnesses. Use when the primary symptom is deep aching pains in the bones.
Gelsemium– Great for colds and the flu. Use when the primary symptom is exhaustion. With heavy eye lids, headache and feelings of anxiousness.
Lycopodium– Use for digestive upset, gassiness and irritability.
Nux vomica– Use for prolonged jet lag, travel constipation, indigestion, irritability and drowsiness.
Pulsatilla– Use for inconsolable babies who are clingy when sick and also tend toward thick profuse yellow or green nasal discharges.
Tabacum– Great for motion sickness when accompanied by a cold sweat and the need for fresh air.
**A note of taking homeopathy: Homeopathy is medicine and should only be taken when absolutely necessary. The general rule for homeopathy is LESS is MORE. When a remedy is needed ,take 2 pellets 15minutes away from food and drink. For acute illness repeat up to 3 times every 4 hours. When you start to see signs of improvement, discontinue taking the remedy as the effects will continue to build.
Wherever your next travels may bring you, have a glorious time!
Sincerely,
Dr. A
PS. Know of someone with upcoming travel plans who would benefit from this information? I would love it if you could help me spread the word by sending them this post! Thank you!